Home Impressions Realtor Edition Setup
Posted on September 5, 2012 by FTLapps in Home Impressions, Products
Introduction
When you first start Home Impressions Realtor Edition, you'll see an empty white box (and the app icon as a placeholder for your logo) under the heading "My Realtor Information":
To fill in the details and create your electronic business card, touch the "Edit My Information" button.  Then, when you touch the "Share My Information" button further down the page, the information you've added will sent via email to the clients you specify for import into their copies of the Home Impressions Home Buyer Edition.
The Realtor Screen
The Realtor screen includes several fields you should be able to populate easily, including your Name, Phone Number, Email and Website URL.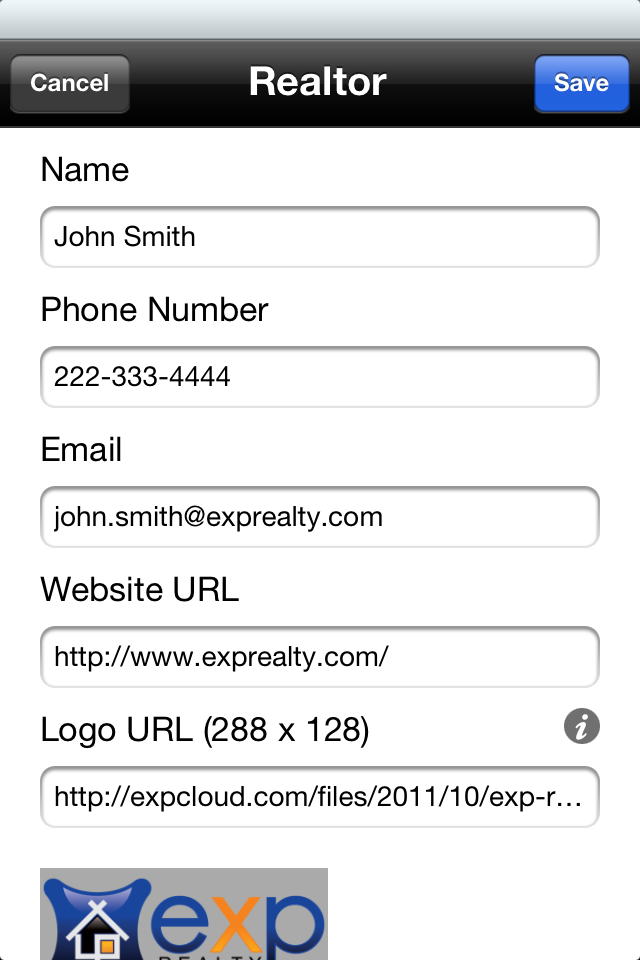 In addition to these fields, you'll see one more that will take just a bit more preparation: Your Logo.
Your Logo
This field allows you to specify the URL for your logo on the web.  For best results, the logo should be 288 by 128 pixels or larger.  You may copy & paste this link from Safari (or any other source), or type it by hand.  If do you type the URL by hand, please make sure to include the "http://" prefix.
Of course, to enter the URL, you'll need an existing logo on the web.  If you don't already have a logo available, please contact your web administrator for help.
The gray background on the "Realtor" screen shows how the logo fits within the available space.  With the 1.1 release, your logo will be scaled to fit the available space on both the iPad and iPhone.
Once your Realtor information has added to the app, the finished Options screen will look something like this:
Questions?  Contact us at http://www.facebook.com/FTLapps.