CCS Track Pack for the TrackDay apps
Posted on December 22, 2012 by FTLapps in Products, TrackDay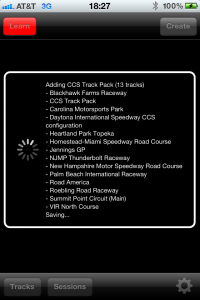 TrackDay for iPhone and TrackDay Pro capture your GPS data on the track, then following each session, automatically compute lap times to provide immediate feedback on your performance.
For TrackDay Pro owners, our Track Packs offer a convenient mechanism for downloading ten or more tracks with a single touch — all FREE.  For TrackDay for iPhone owners, Track Pack prices are discounted 50% OFF the cost of purchasing the tracks individually.
The CCS Track Pack includes 13 tracks from the 2012 CCS schedule. Each track includes Start/Finish, Pit-Out, Pit-In, Raceline, and predicted Raceline speeds and lap time for an Intermediate track day rider.
CCS Track Pack (13 tracks):
– Blackhawk Farms Raceway
– Carolina Motorsports Park
– Daytona International Speedway
– Heartland Park Topeka
– Homestead Miami Speedway
– Jennings GP
– New Hampshire Motor Speedway
– New Jersey Motorsports Park (Thunderbolt)
– Palm Beach International Raceway
– Road America
– Roebling Road Raceway
– Summit Point Raceway
– Virginia International Raceway (North Course)
Download the apps today!
– TrackDay Pro ($19.99)
– TrackDay for iPhone ($4.99)