WineFan at Pearmund Cellars
Posted on August 11, 2013 by Ray in WineFan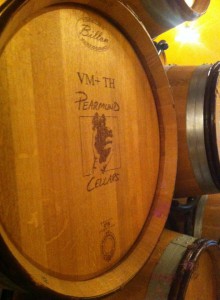 "Stick with what you are good at, and success will follow." We've all heard that at some point in our life. Pearmund Cellars in Broad Run, Virginia follows that path — although they aren't just good, they're great. Owner, Chris Pearmund decided to keep with the original vines of Chardonnay planted on the property as far back as 1976, and to this day that's all that is growing among the 15 acres of vines. And the Chardonnay thrives. You can see it as you pull up, and you can taste it as you drink the wine.
So where does Chris get the rest of his grapes for making his other varietals? Well, throughout the state of Virginia, there are plenty of vineyards that grow just a specific grape. Chris chooses these vineyards because of the quality of grape he is receiving. He purchases all of his grapes (except for a few he gets from Washington state to produce a three varietal blend called Collaboration) from growers in Virginia. He takes the grapes back to Pearmund Cellars where he and his staff make fabulous Virginia wine from locations that grow those varietals very well.
The property itself is gorgeous. As you arrive, you'll drive through a path of vines leading you to a cozy tasting room; great for any occasion. The barrel room will make any wine purest giddy. It has the look, feel, and yes… even the smell of what a true barrel room is supposed to have. If you are joining Pearmund for a tasting, the staff will tell you everything there is to know about the wines and the vineyard — they're well trained — Chris was quizzing his staff on Champagne while we were there for our tasting.
Along with the Old Vine Chardonnay, the Merlot there is fantastic. The 2010 Merlot goes through three stages on the palette as you drink it, starting off fruit-forward, then turning earthy and herbaceous, before a delightful dry finish. You find yourself thinking, "What will this wine do next!?!" The Merlot is easy drinking. It can be enjoyed by itself, yet it is complex enough to stand up to your favorite fall dishes. Needless to say, this wine fan took a bottle home.
Notes exported from our WineFan app follow. Cheers!
At the Pearmund Cellars in Broad Run, Virginia on 8/7/2013, WineFan tasted twelve delicious wines:
86 Points for the 2012 Pearmund Cellars Petit Manseng (Virginia-South River Vineyard, Greene County)
Crisp, tropical flavors. Well balanced acidity. Great for a hot day or pair with Thai food.
88 Points for the 2012 Pearmund Cellars Riesling (Virginia-Kilaurwen, Green County)
Wonderful passion fruit nose. Mango and grapefruit flavors. Spicy food pairs well with this wine.
85 Points for the 2011 Pearmund Cellars Viognier (Virginia-Vinecroft, Fauquier County)
Floral nose with tropical and citrus flavors. Aged in stainless steel and Acacia wood. Great with cream based foods.
88 Points for the 2010 Pearmund Cellars Old Vine Chardonnay (Virginia-Meriwether, Fauquier County)
Full malolactic fermentation provide a creamy texture with apple and butter flavors. This would pair well with lobster
92 Points for the 2010 Pearmund Cellars Merlot (Virginia-Silver Oak Orchards, Nelson County)
A wonderful merlot that starts off with red fruit flavors, turns earthy an herbaceous before a dry finish. Great wine by itself or with food.
86 Points for the 2010 Pearmund Cellars Cabernet Franc (Virginia-Pan D'Or, Fauquier County)
Light fruit on the front with a mellow pepper finish. Easy drinking cab franc.
87 Points for the 2010 Pearmund Cellars Cabernet Sauvignon (Virginia-Crown Orchard, Albemarle County)
Dark fruit flavor profiles. Balanced oak makes this wine food friendly or easy to drink by itself.
85 Points for the 2010 Pearmund Cellars Ameritage Reserve Red Wine Blend (Virginia)
Strong nose and well structured tannins will hold up well to most gamey foods such as wild boar.
88 Points for the 2010 Pearmund Cellars Petit Verdot (Virginia-2 Principals, Fauquier County)
High tannin structure will mellow during cellaring. Blackberry fruit gives way to subtle earth flavors on the finish.
90 Points for the 2007 Pearmund Cellars Collaboration Red Wine Blend (Washington)
Licorice on the nose. Fruit forward on the palette. A great wine. Blend of Cab Sauv, Merlot, and Malbec.
85 Points for the 2010 Pearmund Cellars Late Harvest Petit Manseng (Virginia-Mt. Juliet, Albemarle County)
Citrus notes and honey flavors and floral on the nose. 6% residual sugar.
86 Points for the 2011 Pearmund Cellars Late Harvest Traminette (Virginia-Colucci Vineyard, Shenandoah County)
6% residual sugar. Easy to drink chilled for having higher sugar content. Tropical fruit flavors make this a great wine to pour over pineapple.
To collect your own wine ratings, get WineFan Pro for your iPad or iPhone.