WineFan at The Wine'ing Butcher
Posted on August 21, 2013 by Ray in WineFan

Finding wine from around the globe can be difficult — many great wines never make it to the states. However, among the ones that do, The Wine'ing Butcher in Ashburn, Virginia offers a fantastic selection of wines from every end of the earth. Most of these wines, you would be hard pressed to find anywhere other than a distributor or the winery itself. As a local shop that offers great products that are tough to find, The Wine'ing Butcher is a terrific addition to the Ashburn community.
And, if the wine isn't enough to draw you out, the meats and fish certainly should! Since opening in May of this year, The Wine'ing Butcher has offered Ashburnians a great array of options to choose from. If you are a carnivore, you will love the selection of beef tips marinated in a variety of tasty sauces. The Key West chicken, and turkey, tips are phenomenal as well. And, the fish selection is vast. Ranging from shrimp and scallops, to heartier seafood such as mako shark and tuna, The Wine'ing Butcher can get it all.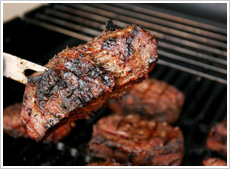 If you happen to venture in on a day when they are tasting wines, you are in for a treat. How many butcher shops can you go to where you can pick out the protein you want for dinner, taste a wine to go with it, then take the wine home. For example, after tasting the 2011 Domaine Du Pas De L'Escalette, you might select the Steakhouse steak tips, which also happens to be the hottest selling cut of meat. The zesty Italian flavors will also pair well with many of the Italian and French wines. And, there are a variety of side items ready-made to complete your meal.
If you already thought The Wine'ing Butcher was doing a lot, then you'll be impressed to know that they also have a full menu — and seating — for you to dine while you shop. In addition to daily specials, the burgers, wraps, and pizzas give you a great variety of delicious choices (Ashburn Menu). They also carry deli meats and cheeses, and an eclectic selection of beers. The bottom line is, if you are a foodie, wino, or beer geek — or just a hungry shopper looking for great wines and meats — you must check out The Wine'ing Butcher.
Notes from our WineFan app follow. Cheers!
At the Wine'ing Butcher in Ashburn, Virginia on 8/17/2013, this WineFan tasted three great wines:
85 Points for the 2012 Punti Ferrer Chardonnay
Steel fermented. Crisp, apple flavors along with some tropical fruit flavors.
78 Points for the 2011 Domaine Du Pas De L'Escalette Red Wine Blend
Dark fruit flavors. Will need time to breathe before drinking or age it for the next five years bring more of those fruit flavors out.
86 Points for the Flare Sparkling Wine
A sweet sparkling wine made from Muscatel grapes. Great with blue cheese.
To collect and share your own wine ratings, get WineFan for your iPhone, or WineFan Pro for your iPad and iPhone.