WineFan at Three Fox Vineyards
Posted on September 4, 2013 by Ray in WineFan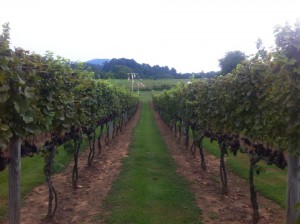 "Wine brings to light the hidden secrets of the soul, gives being to our hopes, bids the coward flight, drives dull care away, and teaches new means for the accomplishment of our wishes." — Horace, Roman Philosopher.
The Romans sure knew their wines, and John and Holli Todhunter do too. At Three Fox Vineyards, just outside Delaplane, Virginia, they provide an experience that will have you thinking you are spending a day at a Tuscan villa.
As you pull up the hill to the tasting room, you'll see that the rolling hills and vast space provide the perfect backdrop for a picnic. So, remember to bring your picnic basket and blanket to go along with your wine. The scenery is breathtaking, but there is also plenty to do. In addition to wine tasting, Three Fox provides three sets of corn hole boards, and horseshoes. There is plenty of room for kids to play. And, for those looking for a quieter experience, there are plenty of places on the property where you may venture off on your own.
The architecture and atmosphere of the tasting room are reminiscent of a Tuscan villa — exactly what John and Holli intended.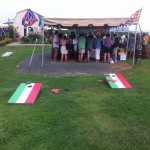 But, it's not only the venue that has an Italian flair — a couple of their wines are crafted from Italian varietals. Three Fox Vineyards is one of a handful Virginia vineyards that grow the Nebbiolo grape. If you have ever enjoyed Barolo or Barbaresco, you have had the pleasure of sipping juice from Nebbiolo. Sangiovese is also grown on the estate. It is well crafted and has wonderful earth tones on the nose with cherry, mocha, and caramel notes on the palette. It makes a harmonious pairing with Italian meat and pasta dishes that will have you saying "Mamma Mia!"
Notes from our WineFan app follow. Cheers!
At the Three Fox Vineyards in Delaplane, Virginia on 8/31/2013, we tasted eleven delicious wines:
85 Points for the 2012 La Boheme Viognier
Honey notes, crisp and light make this an easy sipper. Good with BBQ chicken.
88 Points for the 2012 Leggero Chardonnay
Tropical and citrus notes. Great nose.
84 Points for the Gatto Bianco White Wine Blend
3% residual sugar. Pineapple and citrus flavors. Good with seafood.
83 Points for the 2012 Appassionata Vidal
3% residual sugar. Pineapple and citrus flavors. Goes well with sharp cheeses and spicy food.
82 Points for the Thibaut Janisson Sparkling Chardonnay (guest wine)
Crisp, and refreshing. Fruit forward. Great pair with oysters.
84 Points for the 2012 Cano Pazzo Rose
Hints of spice and light fruit. Great Rose for the warm summer days
89 Points for the 2011 Volpe Sangiovese
Earthy nose and dark fruit on the palette. Great with Italian food.
87 Points for the 2011 Piemontese Nebbiolo
Fruit forward with hints of spice.
83 Points for the 2012 La Trovatella Merlot
Plum flavors with earthy undertones.
86 Points for the 2011 Alouette Cabernet Franc
Leather and blackberry flavors. Will age well with proper cellaring.
80 Points for the Rosso Dolce Chambourcin
6% residual sugar. Chocolate and berry flavors make this port alternative a great after dinner drink.
To collect and share your own wine ratings, get WineFan for your iPhone, or WineFan Pro for your iPad and iPhone.