TrackDay Pro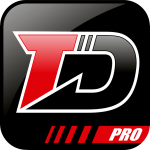 The track day lap-timer by track day riders, for track day riders
– For iPad and iPhone
– Capture GPS data, then automatically compute lap times for each of your sessions on the track
– Download our tracks for FREE, have the app "learn" the track from your session data, or create your own track using the built-in track editor
– With Track view, analyze the raceline before you head to the track; back in the paddock, analyze your session results
– Email a CSV file of raw GPS data for selected sessions for further analysis outside the app
– 274 track configurations around the world and counting! Don't see the track you're looking for, tell us and we'll add it!
Join our team! Download TrackDay Pro on the App Store today!

Follow us and provide feedback via Facebook at www.facebook.com/TrackDayPro, or email us at trackday@ftlapps.com to let us know what tracks you'd like to see!
Adria International Raceway
Aglesey International GP Circuit
AMCKART
Aragon (MotorLand Aragon)
Arizona Motorsports Park
Arroyo Seco Raceway
Ascari Race Resort
Athens Circuit
Atlantic Motorsport Park
Auto Club Speedway Motorcycle Course
Auto Club Speedway Sports Car Course
Autobahn Country Club Full Track
Autobahn Country Club North Track
Autobahn Country Club South Track
Autodrom Most
Autodromo Enzo e Dino Ferrari di Imola
Autodromo Fazenda Capuava
Autodromo Interlomas
Autodromo Internacional de Codegua
Autodromo Jose Carlos Pace (Interlagos)
Autodromo Las Vincachas
Autodromo Quilpue
Autodromo San Antonio Clock-wise
Autodromo San Antonio Counter Clock-wise
Autodromo Termas de Rio Hondo
Autodromo Termas de Río Hondo
Barbagallo Raceway Long Circuit
Barbagallo Raceway Short Circuit
Barber Motorsports Park
Baskerville Raceway
Bedford Autodrome GT Circuit
Bedford Autodrome Southwest Circuit
Bedford Autodrome West Circuit
BIR 2.5 mile Competition Road Course
BIR 3.1 mile Donnybrooke Road Course
Blackhawk Farms Raceway
Bluegrass Motorsports Park
Brands Hatch GT Circuit
Brands Hatch Indy Circuit
Brno Circuit
Broadford Raceway
Buddh International Circuit
Bugatti Circuit
Buttonwillow Raceway configuration 13 CW
Cadwell Park Full Circuit
Calabogie Motorsports Park East Track
Calabogie Motorsports Park Pro Track
Calabogie Motorsports Park West Track
Canadian Tire Motorsport Park (Mosport International Raceway)
Carolina Motorsports Park
Castle Combe Circuit
Charlotte Motor Speedway Road Course
Chuckwalla Valley Raceway
Circuit de Catalunya
Circuit de la Sarthe
Circuit de Spa Francorchamps
Circuit de Spa Francorchamps Formula One
Circuit de Valencia
Circuit du Val de Vienne
Circuit Mont-Tremblant
Circuit of the Americas
Circuit Park Zandvoort
Circuito Cartagena
Circuito de Jerez
Circuito Estoril
Daytona International Speedway CCS configuration
Donington Park Grand Prix Circuit
Donington Park National Circuit
Dubai Autodrome Club Circuit
Dubai Autodrome Grand Prix Circuit
Dubai Autodrome International Circuit
Dubai Autodrome National Circuit
Eagles Canyon Raceway
Firebird International Raceway East Track
Gateway Motorsports Park Road Course
GingerMan Raceway
Goodwood Circuit
Gotland Ring
GrandSport Speedway 1.0 mile Circuit
GrandSport Speedway Mako Circuit
Grattan Raceway
Hallett Motor Racing Circuit (Clockwise)
Hallett Motor Racing Circuit (Counter Clockwise)
Hampton Downs International Circuit
Harris Hill Road (H2R) Clockwise
Harris Hill Road (H2R) Counter Clockwise
Heartland Park Topeka
High Plains Raceway Full Circuit
High Plains Raceway North Circuit
High Plains Raceway South Circuit
High Plains Raceway West Circuit
HockenheimRing
Homestead-Miami Speedway Road Course
Honda Grand Prix of St. Petersburg
Hungaroring
Hutchinson Island Circuit
Inde MotorSports Ranch Main Circuit (Clockwise)
Indianapolis Motor Speedway GP Road Course
Iowa Speedway Road Course
Isle of Man TT
Jennings GP
Johor Circuit
JRP Speedway
Kansas Speedway Road Course
Karlskoga Motorstadion
Killarney Main Circuit
Kirkistown Circuit
Kyalami Grand Prix Circuit
Lakeside International Raceway
L'Anneau du Rhin Circuit Competition 3.0
L'Anneau du Rhin Circuit Competition 3.7
L'Anneau du Rhin Circuit Loisir
Las Vegas Motor Speedway
Las Vegas Motor Speedway Classic Course
Lime Rock Park
Linkopings Motorstadion Sviestad
Long Beach Street Circuit
Losail International Circuit
Mallory Park Superbike Circuit
Manfeild Autocourse Grand Prix Circuit
Manfeild Autocourse Short Circuit
Mantorp Park
Mazda Raceway Laguna Seca
McNamara Park Road Racing Circuit
Mid-America Motorplex 2.23 mile circuit
Mid-Ohio Sports Car Course
Midvaal Raceway
Miller Motorsports Park East Course
Miller Motorsports Park Full Course
Miller Motorsports Park Outer Course
Miller Motorsports Park West Course
Misano World Circuit Marco Simoncelli
Mondello Internantional Racing Circuit Park
Monticello Motor Club Full Circuit
Motorsport Park Hastings
MotorSports Ranch Cresson 1.3 Mile Road Course (Counter Clockwise)
MotorSports Ranch Cresson 1.7 Mile Road Course (Counter Clockwise)
MotorSports Ranch Cresson 3.1 Mile Road Course (Counter Clockwise)
Mount Panorama Motor Racing Circuit Bathurst
MSR Houston Full Circuit (Clockwise)
MSR Houston LeMons Loop (Clockwise)
Mugello Circuit
Nashville Superspeedway Road Course
NCCAR / NCBike (Clockwise)
NCCAR / NCBike (Counter Clockwise)
Nelson Ledges Road Course
New Hampshire Motor Speedway Road Course
New York Safety Track
NJMP Lightning Raceway
NJMP Thunderbolt Raceway
NOLA Motorsports Park North Track 1.91 Mile Course
NOLA Motorsports Park North Track 2.32 Mile Course
NOLA Motorsports Park North Track Long Course
Nuerburgring Formula One Circuit
Nuerburgring Nordschleife
Oregon Raceway Park
Oulton Park Circuit
Pacific Raceway Road Course
Palm Beach International Raceway
Pannonia Ring
Phakisa Freeway F1 Track
Phillip Island Circuit
Pitt Race (BeaveRun) North Track
Pocono FUSA Track
Pocono Inside Track S/E
Pocono Lil Daytona
Pocono Raceway 2.5 mile Road Course
Pocono Raceway East Road Course
Pocono Raceway North Road Course
Pocono Raceway South Road Course
Portland International Raceway
Poznan Circuit
Pukekohe Park Raceway
Putnam Park Road Course
QLD Raceway Clubman Circuit
QLD Raceway National Circuit
QLD Raceway Sportsman Circuit
QLD Raceway Sprint Circuit
Raceway at Belle Isle Park
Raceway Park Road Course
Radom Kart Circuit (Clockwise)
Radom Kart Circuit (Counter Clockwise)
Red Star Raceway
Road America
Road America Kart Track
Road Atlanta
Rockingham Motor Speedway Road Course
Roebling Road Raceway
Ruapuna Park Grand Prix Circuit
Sachsenring Circuit
Sandia Motor Speedway New Configuration
Sandia Motor Speedway Old Configuration
Sandown Motor Circuit
Sebring International Raceway
Sentul International Circuit
Sepang International Circuit
Serres Racing Circuit
Shenandoah with MotorcycleXcitement
Shenandoah with TPM
Silverstone Circuit
Slovakia Ring
Snetterton 200 Circuit
Snetterton 300 Circuit
Sonoma Raceway
Sonoma Raceway Motorcycle Configuration (Counter Clockwise)
Southern Oregon Karters Track 1
Spring Mountain 2.2
Summit Point Circuit (Main)
Summit Point Jefferson Circuit
Summit Point Shenandoah Circuit
Suzuka Circuit
Sydney Motorsport Park Brabham Circuit
Sydney Motorsport Park Gardner Circuit
Symmons Plains Raceway
Talladega Gran Prix Raceway
Taupo Motorsport Park
Teretonga Park Raceway
Texas World Speedway Inner Course
Texas World Speedway Road Course
The Ridge Motorsports Park
Thunderhill Raceway Park
Timaru International Motor Raceway (Levels)
TT Circuit Assen
Twin Ring Motegi
US Air Motorsports SuperMoto
Vereeniging Kart Circuit
VIR 3.27 mile Full Course
VIR Grand West Course
VIR North Course
VIR Patriot Course
VIR South Course
Wakefield Park
Watkins Glen International
Willow Springs International Raceway
Willow Springs Streets of Willow Springs
Winton Motor Raceway National Circuit
Yas Marina Formula One Circuit
Yas Marina Formula One Circuit with Chicane
Zhuhai International Circuit
Zwartkops Kart Circuit
Zwartkops Raceway