TrackDay GPS Accuracy
Posted on September 7, 2012 by FTLapps in Tech, TrackDay

Although TrackDay Pro and TrackDay for iPhone can compensate for problems with GPS accuracy to some degree, an effective mounting strategy will assure the best result.

During our first two days of testing in May 2012, with two different riders on two different tracks, each carrying their iPhone on the front inside pocket of their racing suit, the result was abysmal. The data was entirely unsuable: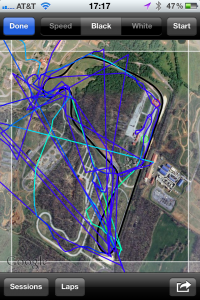 In less than perfect conditions, the 1.1 and higher releases of TrackDay Pro and TrackDay for iPhone compensate for imperfect data; lap times can be accurately computed from start-finish crossings, and errant pit-in and pit-out crossings ignored: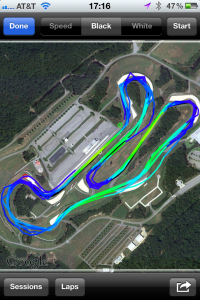 Mounted on the tail of the bike, the result from the first test session was so perfect we were concerned that no data had been captured and that all we were seeing was our preset raceline. Turning the raceline color to black affirmed that the trace on the screen was actual GPS data — a result that seemed almost too good to be true: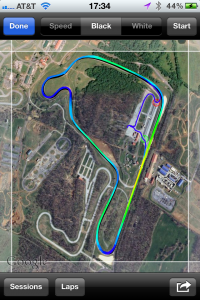 But, now, with repeated follow-up testing, we've confirmed that the tail-mounted strategy works flawlessly.  Lap times, cross-checked by video footage, are consistently accurate to within just a few one hundredths of a second!
GPS Mounting Options
Options range from sophisticated and expensive to cheap and effective.
For our initial rounds of testing, we chose "cheap and effective": VELCRO and painter's tape. For track day riders, VELCRO affixed to the back of the bike provides a stable platform. Painter's tape across the top and bottom of the iPhone, with diagonals crossing from front to back to secure the tape ensure against vibration and wind.
A lesson-learned from our July 2012 testing: If you leave your iPhone on the bike during sessions, make sure to cover it to reflect the sun. Overheating will result in the alert: "Temperature iPhone needs to cool down before you can use it." We lost a great Session 3 due to this problem. (The GoPro was also cooked — so the problem wasn't unique to just the iPhone.)
During our third round of testing, our VELCRO / painter's tape solution withstood (GPS-measured) 152 mph behind the rider.
Industrial Strength VELCRO
Lowe's VELCRO 2-Pack 4″L x 2″W White Heavy-Duty Strips (White) ($2.97)
Home Depot Velcro 4 in. x 2 in. Industrial Strength Strips 2 Pack (Black) ($2.97)
Home Depot Velcro 4 in. X 2 in. Industrial Strength Strips 2 Pack (White) ($2.97)
Home Depot Velcro Industrial Strength 1-7/8 in. Black Coins (4-Pack) ($3.47)
For a good GPS signal, a clear view of the sky is a must — but what counts as "clear" varies pretty radically — if at all possible, test your mounting solution before heading to the track. We've also found that positioning the iPhone or iPad horizontally seems to improve signal strength.
One of our team reports that in his Mustang, he put the iPad on the back seat and folded the seat down over it to assure it didn't get tossed around. John says, "It worked just fine and was able to get good GPS data (even though it was sandwiched in the folded seat)."
For his second day on the track, John was able to firmly mount the iPad on the center console using movers wrap (4′ Saran wrap). He reported, "This worked really well. I just opened the lid on the center console and wrapped the iPad in place — the iPad touch screen still works, even when protected by 4-5 layers of wrap — the console lid still locks closed; perfect, stable, non-invasive, and reliable. It was right at my side and could be started and stopped as needed. I just left it there all day and touched the screens as needed… Highly recommended and very effective."
For motorcyclists, we're now taking a look at the RAM Mounts and Cycle Sounds solutions:
RAM Mounts
RAM iPhone 4 Mount ($8.40)
RAM 1″ Diameter Ball Short Double Socket Arm with Diamond Base. Overall Length: 3″ ($18.43)
RAM Motorcycle Fork Stem Base with 1″ Ball ($16.54)
Cycle Sounds
iPhone 4 Holder ($29.95)
Universal Stem Mount Kit ($79.95)
Augmenting iPhone GPS
Although augmenting the iPhone 4 / 4S GPS should be unnecessary with a proper mounting strategy, for those seeking greater accuracy or sub-second refresh rates, there are a number of options on the market today: